6 Little Tricks To Achieve The Best Home Office Desk Setup
Having a great home office desk setup is essential if working from home has become a permanent part of your working life. According to research by BetterUp, 12% of survey respondents reported finding it hard to avoid distractions while working at home, and 7% found it challenging to stay motivated.

It was understandable that many of us found ourselves unprepared to work from home properly when we were thrust unexpectedly into the homeworking way of life due to the Covid-19 pandemic.

Nevertheless, we did the best we could working from the kitchen table while simultaneously juggling work, schooling the kids, and the madness of not being able to leave the house.

Now that almost 50% of companies are considering leaving homeworking on the table, a decent home office desk that provides a place of focus and inspires productivity is key to avoiding the challenges of distractions and lacking motivation.

Sounds like a big call for a simple home office desk, right? Not really. It is possible to achieve a home desk setup that inspires your best work from home if you invest in the best desk for you and the type of work you do.

Ready to learn more? Here are 6 little tricks to achieve the best home office desk setup...
1. Choose an ergonomic home office desk
The link between ergonomics and productivity has been firmly documented in numerous studies. It makes sense that if you're working in a way that causes you physical pain or discomfort, eventually, it will have a knock-on effect on your output.

The results of these studies have even demonstrated that poor ergonomics can impact your psychological well-being as well.

So now that we've established that ergonomics is a vital component of your home office desk setup, knowing what exactly makes a desk ergonomic will help guide your buying choice.

An ergonomic home office desk will have a desktop height that isn't fixed. This means you'll be able to adjust the height of the desktop so that it corresponds to your body's measurements.

For further information on adjusting your ergonomic home office desk to your body's profile, read this post: Desk Ergonomics: Why you need an ergonomic desk.
2. Customise your work area
A modular home office desk is ideal if you want to achieve a custom setup that suits both your home and the type of work you do.

Here at Work From Home Desks, we describe the WFH Desk as the world's most customisable desk. You can simply purchase the WFH Desk on its own, or you can choose to customise your setup by choosing what you need from the range of modules and accessories.

If you decide that you need a home office desk with storage, being able to purchase and add on a bookshelf module or side shelf module to the original desk would increase the functionality of your home office desk and your productivity.
Customising your home office desk makes working from home more enjoyable.
3. Make the most of your space
Not all of us have a spare room at home to dedicate as office space, so perhaps you're setting up a workspace in a bedroom or your living area.

This doesn't mean you can't have an attractive and inspiring desk setup but you should be sure to choose a desk that makes the most of the space you have to work with.

Say, for example, you have a corner space to set up your home office desk; starting with the WFH Desk, you could then choose to add a corner desk module to your desk to create an L-shaped home office desk.

Using modules to create a home office corner desk means you'll get a lot more desktop area and turn a corner into a functional and attractive workspace.
Use add-on modules and accessories to personalise your home office space and make it more ergonomic.
4. Create a space that inspires you
Part of creating and maintaining motivation to work at home comes from having a space that you actually get excited to work at. So, of course, you'll want to start with a beautiful desk. Many homeworkers will choose a wood home office desk simply for its aesthetic quality.

With various finishes to choose from, a wooden home desk creates a rich and warm ambiance that makes it easy to style in a way that suits your existing decor.

Next, you'll want to think about where the desk is positioned. Sometimes one location is great in the winter months because it's close to a heat source, but maybe that spot is unbearably hot in the summer.

You'll also want to consider how your workspace is lit. Do you have access and prefer natural lighting? Or do you have a really beautiful desk lamp that does the trick?

Overall, you'll want your space to be comfortable and selecting an ergonomic home office desk is always the best choice. What comfort means for one person could be different for another, so if having a luxurious throw draped across your desk chair makes it a more inviting place to work, do it!
Creating a space that is inviting and comfortable to work from will help with your focus and productivity.

5. Dress your workspace
A lot of the time, we're so focused on the functionality of a workspace that we forget about injecting our personality into it. After all, one of the many perks of being able to work from home is to be in an environment where we've set it up just how we like it.

Once you've selected your home office desk and chair set, you can begin thinking about gorgeous desk pads, styling a few favourite houseplants for greenery, hanging some inspirational quotes in frames on the wall, and even upgrading you chair or stool to something that's over-the-top stylish.

Now that's dressing for success!

6. Future-proof your workspace

If you're working from home, a home office desk setup is an investment in yourself and your work. Making sure that investment is relevant for the long term is easy if you select a modern home office desk that's been thoughtfully designed for home working.

In order to create a home office setup that will work for you now and in the future, consider the following things:

- Is it customisable? Can you add and remove modules and accessories for when you have more or less space? Or if you change jobs and have different types of work? (A modular setup also works well if you need to create a two-person desk home office).
- Does the desk pack down flat for storage or for easy transport when moving home?

Having a desk that incorporates these types of features makes it easy to create a sustainable workspace at home that will stand the test of time.

Bonus tip: The Home Office Desk
Here at Work From Home Desks, we've curated a collection of desk setups that would suit different types of work.

The Home Office Desk bundle is a complete home office setup, featuring shelving for storage and a full spec of accessories.It's ideal for those who want a modern home desk that gives you the maximum amount of functionality while maintaining a compact footprint.

The Home Office Desk is perfect if you:

- Want to work standing Use a screen with a laptop, keyboard & mouse
- Need handy storage for larger items such as printers
- Need hooks for items such as headphones

Accessories included in this bundle are:

- Topshelf: one of the best accessories for standing desks, especially if you need a dual monitor standing desk
- Laptop Lifter Wing: an innovative accessory for laptop users that works well on either side of your desk
- Side Shelf Module: attach it to either side of your WFH Desk to provide ample storage for your office equipment
- Phone stand: this compact and sustainable phone holder is your perfect desk companion
- Hooks: create a solid hanging point for items such as bags, headphones, keys, or jackets.

A small home office desk is also available.
We hope this article has given you some helpful advice on achieving the best home office desk setup.
If you have any questions about the WFH Desk dimensions, or how to achieve an ergonomic desk setup using a WFH Desk, please don't hesitate to reach us through the chat function on our website, or email our friendly customer services team.
Related Posts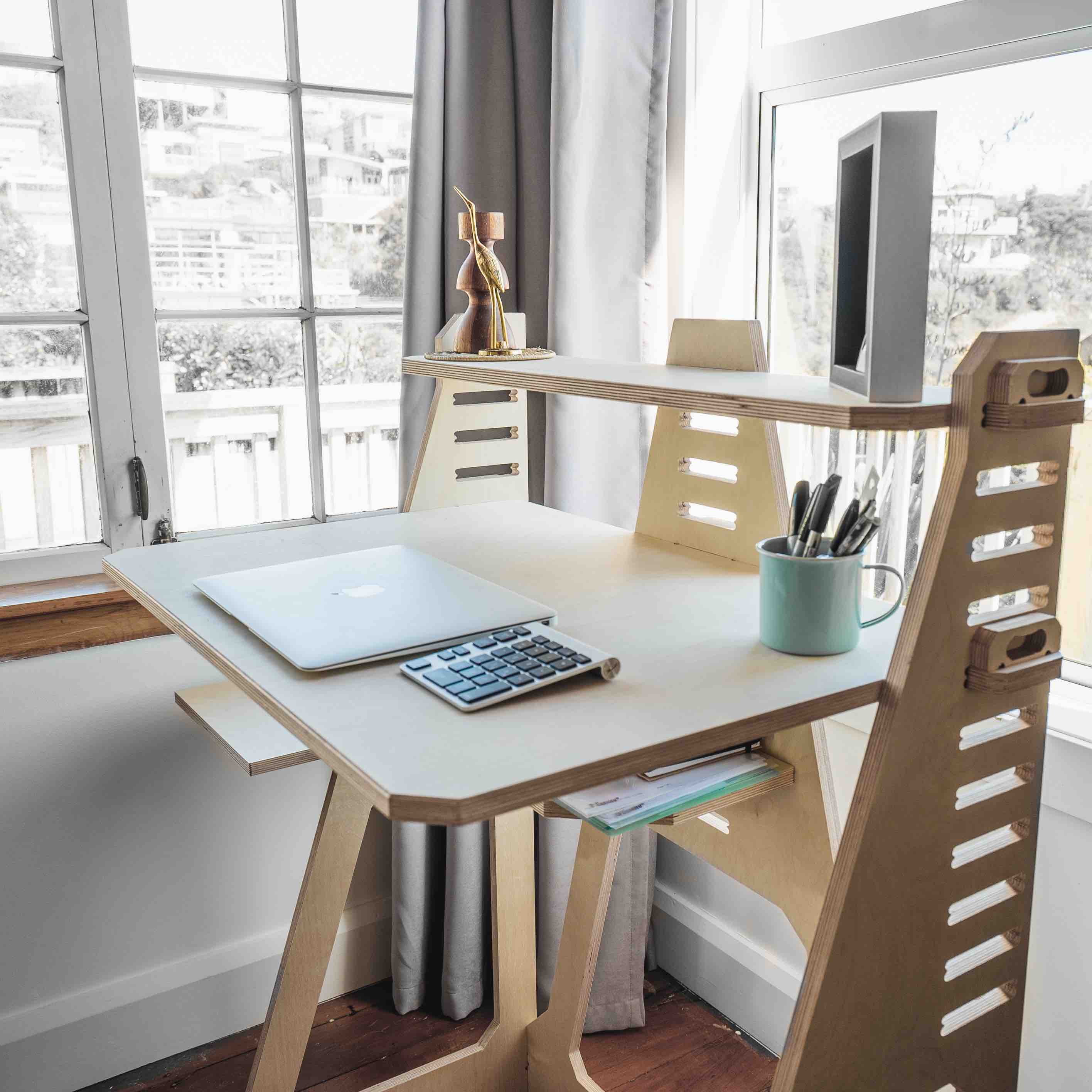 Nov 09, 2023 Nicole D'Almeida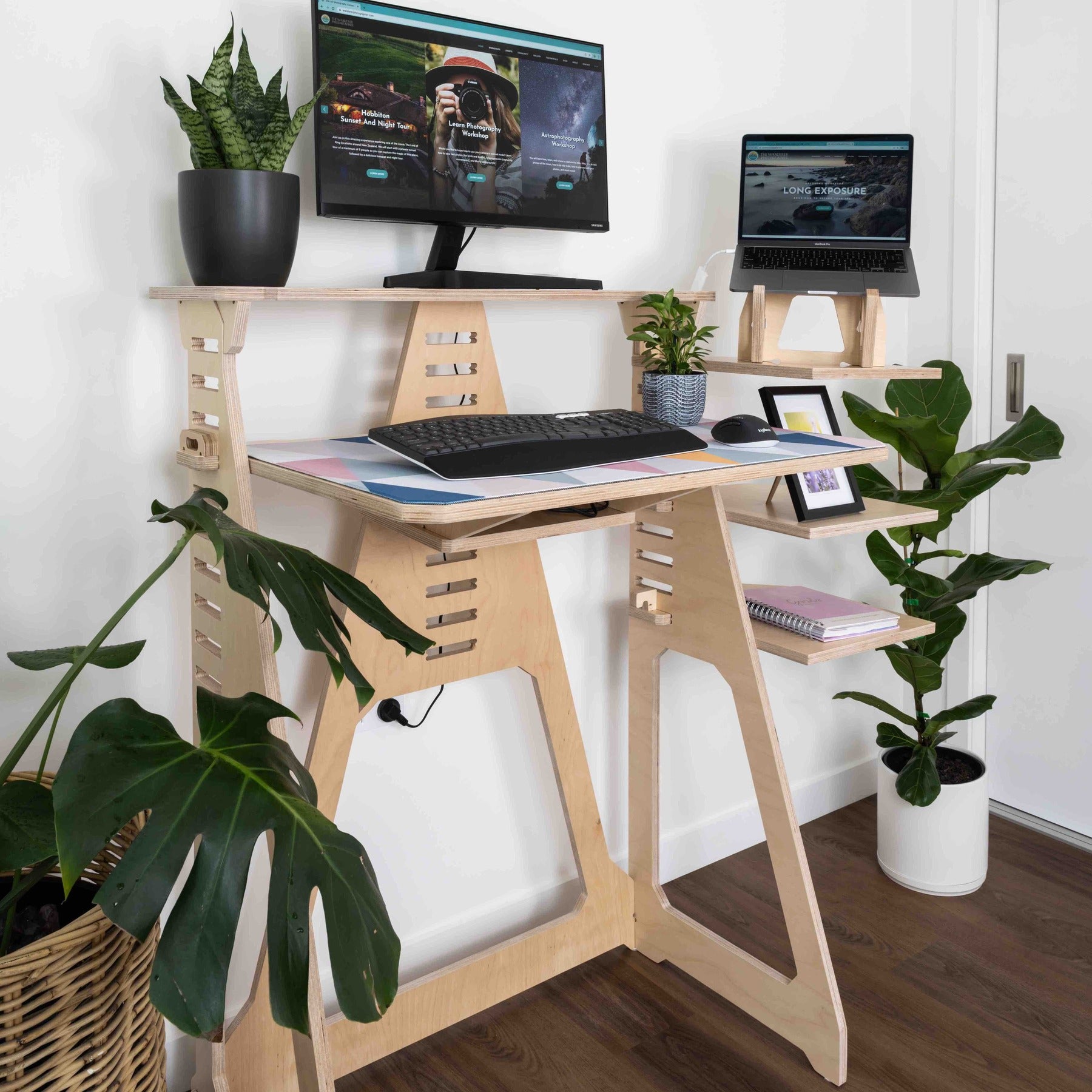 Sep 25, 2023 Nicole D'Almeida
Jul 04, 2023 Nicole D'Almeida